I never would have imagined that my youngest son would be the first of the three to marry, but May found my mother and me traveling to North Carolina for his wedding. It was a long trip, but very well worth it!  I'm quite pleased that Brandon and Angela were married on May 24th and that not only have a I gained a daughter, but two granddaughters as well.  Welcome to the family Angela, Mina and Lilith!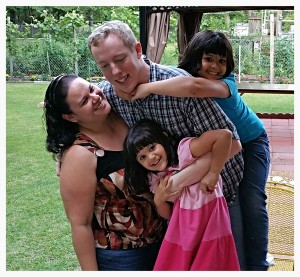 This photo was taken the day before the wedding and is one of my favorite photos of the weekend.  Those smiles just melt my heart! The wedding was held in the back yard of Angela's parents house and was absolutely beautiful.  Angela did a wonderful job at planning and getting everything all taken care of.  Many thanks to her parents for hosting this happy event!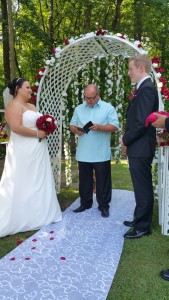 I was also able to spend some time with my middle son, Kevin, and his wonderful fiance', Laura which I thoroughly enjoyed.
One of the best aspects of the whole trip though, was all the time I was able to spend with my mom.  Thanks mom for joining me!  I'm so happy you came and were able to also spend some time with your grandsons!  I'm most very blessed to have you as a mother. I love you!